Spencer Travel Wellness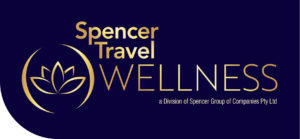 We love booking wellness holidays for our clients. We believe wellness travel promotes your health and wellbeing, both physical and mental, through activities that you do during your trip. Our goal is to have you check out feeling healthier and better than when you checked in!
Travel is a great antidote to the stresses of today's fast-paced world. Travel isn't just fun and exciting, it's also an opportunity to enrich the mind, body and spirit.
It's also perfect opportunity to bring balance back into your life. We want you to have the opportunity to "reboot", find calm, & improve your well-being. We invite you to talk to us about your next wellness travel experience. We have the connections and experience and would love to arrange an unforgettable holiday for you.
Pampering spas, detox, fitness, rejuvenation, anti-ageing, yoga, meditation, Pilates and mindfulness are some of the experiences on offer. And all in beautiful parts of Australia, New Zealand and the world.
Spencer Travel works with many wellness retreats and resorts, wellness gurus and companies that offer an array of options and treatments. Some of our partners include: