Spicers Scenic Rim Trail
Explore undiscovered parts of Queensland while experiencing Spicers' relaxed luxury service on the Scenic Rim Trail.
Walk along the Great Dividing Range, through World Heritage Listed Gondwana Rainforest and see native fauna and flora in all its glory. Experience awe-inspiring views as you traverse the Scenic Rim, and all within one and a half hours of Brisbane.
Spicers Scenic Rim Trail showcases the best of the Australian bush with sustainability at the forefront and relaxed luxury as it's defining difference.
The experience
Small groups of up to 12 walkers will join expert guides as they venture on foot through one of Australia's most unique landscapes.
Travellers can choose the length, with the four and six-day walks both encompassing the new trail and accommodation, and the two and three-day walks continuing to depart from Spicers Canopy. The Scenic Rim Trail encompasses a section of the Great Dividing Range and as such walkers can look forward to a mountain and forest based hiking experience. A good level of fitness and stability is required to comfortably navigate the Grade 3 to Grade 5 trails.
Pack-free walking means luggage is transferred daily with guests only carrying a daypack. As an all-inclusive experience guests can relax knowing that everything is taken care of.
For people who love the outdoors and enjoy a touch of bush luxury the Spicers Scenic Rim Trail is a must.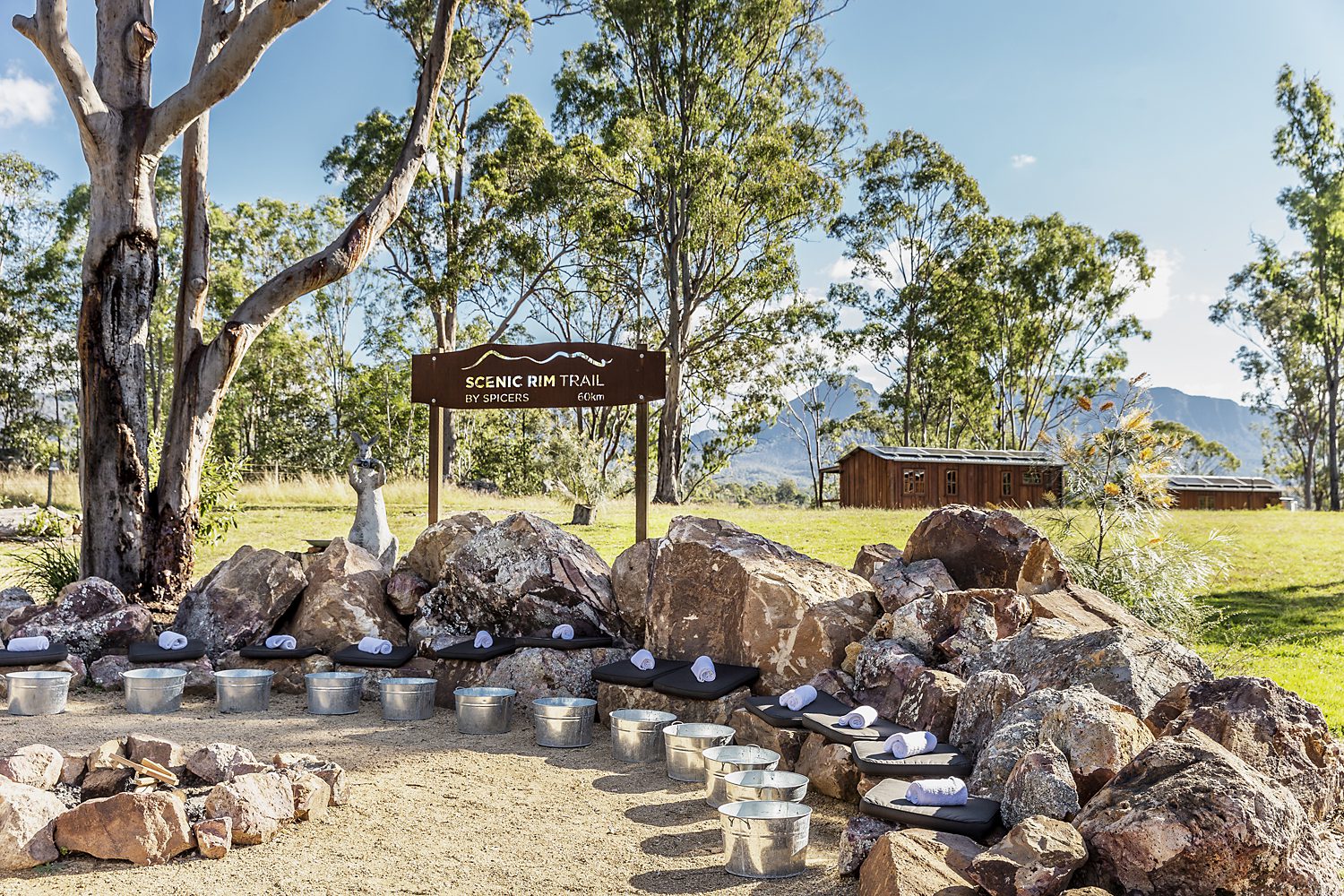 Spicers Scenic Rim Trail 2 and 3-day walks
This unique adventure begins in the foothills of South East Queensland's Main Range National Park, famous for its stunning collection of peaks, ridges, forests and ancient volcanic plateaus. Our experienced guides will lead you through a region of more than 30,000 hectares of parkland, state forests and National Parks. Combined with Spicers Peak Station, a 2,000 hectare private nature refuge, you'll
enjoy an opportunity to explore the Australian bushland. If you are new to multi-day hiking or are short on time, our two and three-day hikes are ideal.
2 day walk $1,490 * pp (twin share based on two walking and sharing a suite)  ** Solo traveller rate $1690
3 day walk $1,890* pp (twin share based on two walking and sharing a suite) ** Solo traveller rate $2,190
Walk Highlights
Learning about the Australian bush through our knowledgeable guides
Glamping-style accommodation with sweeping mountain views
Share-style meals with locally sourced produce
Inclusions
Stay at Spicers Canopy Luxury Tents
All nourishing meals
Beverages including alcohol
Experienced trail guides
Select walking gear provided
Luggage transferred to camp
Spicers Scenic Rim Trail 4-day walk
Ascend dramatic peaks, ridges and escarpments of the Main Range National Park from the Mistake Mountains in the north
to Cunningham's Gap in the south.
Spend each night in a unique ecocamp and at the end of each day be welcomed with a cool beverage and hot shower, all while experiencing the relaxed luxury service Spicers is renowned for.
4 day walk $3,999* pp (twin share based on two walking and sharing a suite) ** From $4,299 per person twin share with scenic heli transfer. ** Solo Traveller Supplement $1500
Walk Highlights
World Heritage Gondwana Rainforest encounter
Stunningly unique accommodation
World-class hiking trails and expert guides
Inclusions
4 nights accommodation staying at a new Spicers location each night
4 days of guided hiking with experienced trail guides
All meals and select beverages including alcohol
Luggage transferred daily so all you carry is your day pack
One way scenic heli transfer on your final morning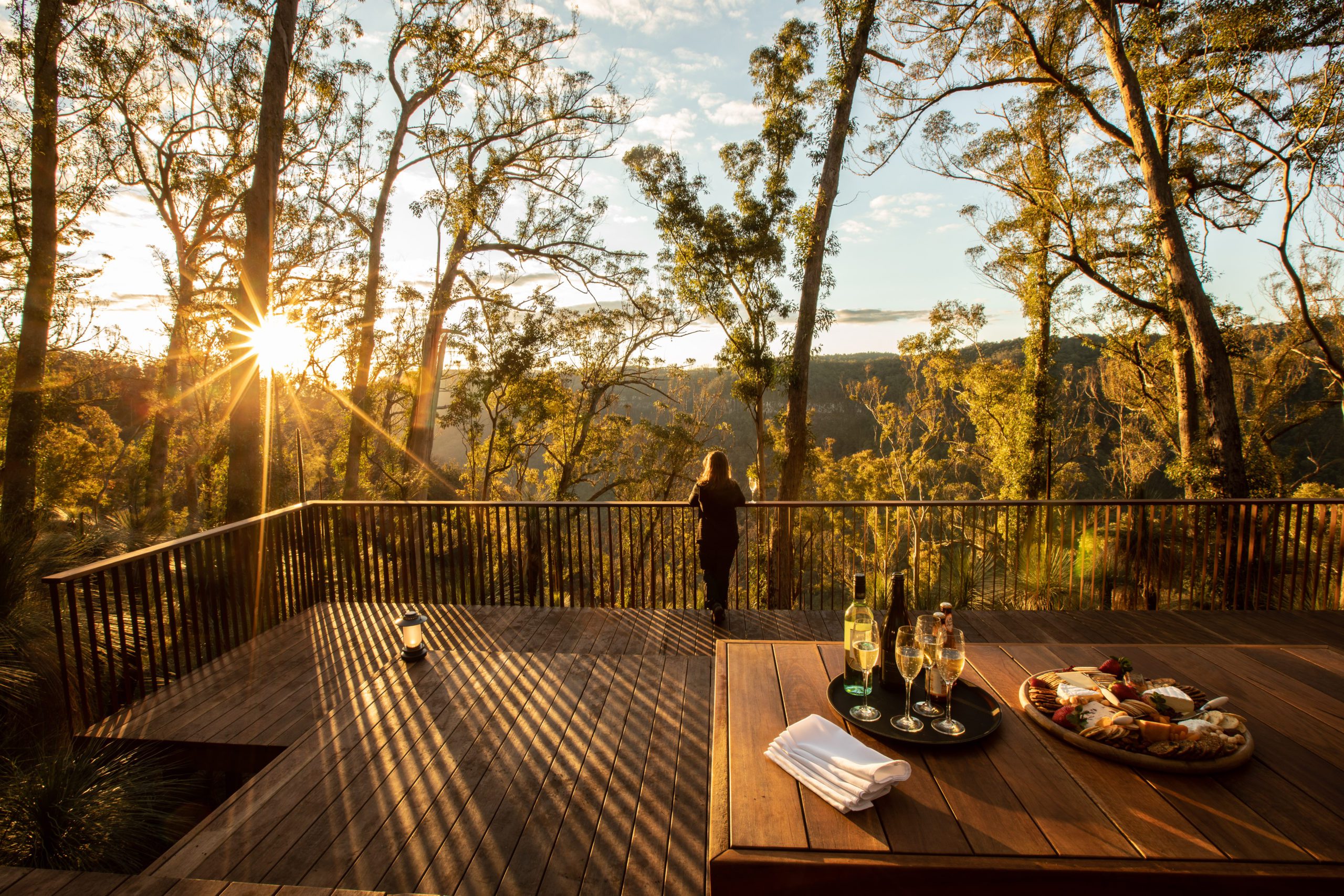 Spicers Scenic Rim Trail 6-day walk
The ultimate Scenic Rim Trail adventure. Embark on the trip of a lifetime and walk the entire Spicers Scenic Rim trail in one incredible journey. No two days are the same, with unique accommodation, excellent food and wine and diverse walking terrain each day.
There are two ways to experience a 6-day walk. You can book one of the select dedicated departures or combine a 4-day and 2-day walk at a time that suits you.
And why not add a night at Spicers Hidden Vale to the beginning or end of your walk and experience what this wonderful property and the chef-hatted Homage Restaurant have to offer.
6 day walk $6,945* pp (twin share based on two walking and sharing a suite) **Solo traveller rate is $10,469 with own room. **7 nights accommodation: 5 nights staying at unique eco-camps & 2 nights at Spicers Peak Lodge
Walk Highlights
Experience the entire Spicers Scenic Rim Trail end to end
Explore World Heritage Gondwana Rainforest
Stunningly unique accommodation, including the height of luxury at Spicers Peak Lodge
Inclusions
7 nights accommodation
5 nights staying at unique eco-camps
2 nights at Spicers Peak Lodge
6 days (80km) of guided hiking with experienced guides
All meals & select beverages (inc. non alcoholic and alcoholic beverages)
Luggage transferred daily
One-way scenic helicopter flight from Spicers Peak Lodge to Spicers Hidden Vale