By Lisa Allan
We trekked approx. 20kms a day for 6 days and 5 nights through the ancient landscape of the West MacDonnell Ranges.  From Alice Springs Telegraph Station to Ormiston Gorge, through the dramatic colour changes of the rock formations of Simpsons Gap, and Stanley Chasm to the Summit of Mount Sonder (1,380m) for an unforgettable sunrise spanning for miles.
Some of our many other highlights were silent walks, swimming in idyllic waterholes at Glen Helen Gorge & Finke River. There were spectacular views at the top Euro Ridge & Counts Point and we crossed the Ghan railway line and Stuart Highway in the middle of nowhere.  Wallaby Gap, Ochre Pits and the immensity of Serpentine Gorge to finish off  our trek, with and exhilarating & challenging River Crossing at Ormiston Gorge.
I selected the best sections of this challenging iconic desert trail. It highlighted the best of the best of this unforgiving scenic region and we gained a deeper understanding of the ancient Indigenous culture and Traditional Owners of the land. Although this was not for the faint hearted and you must be relatively fit, we did not compromise our luxuries and comfort!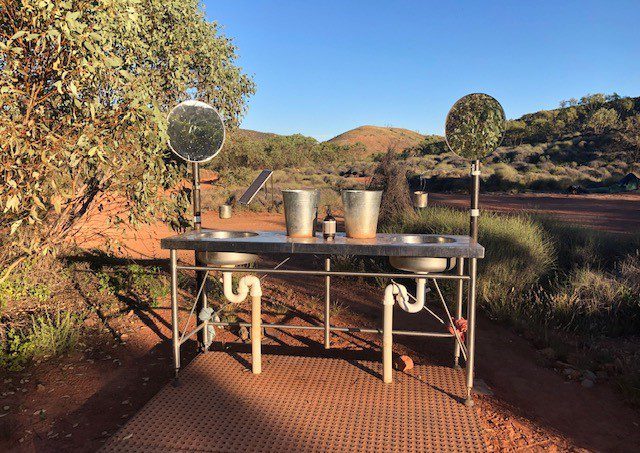 Every night, when we arrived at our exclusive semi-permanent wilderness safari tented campsite, we enjoyed a wonderful hot shower followed by canapes and cocktails. We relaxed in comfortable lounges around the camp fire, while our support staff prepared delicious 3 course gourmet dinners.
Early morning rises were welcomed with amazing sunrises and a beautiful hot cooked hearty breakfast. they were followed by snacks and picnic lunches with a spectacular backdrop.
Once we completed our unforgettable trek, we wined and dined and partied in Alice Springs with the locals!