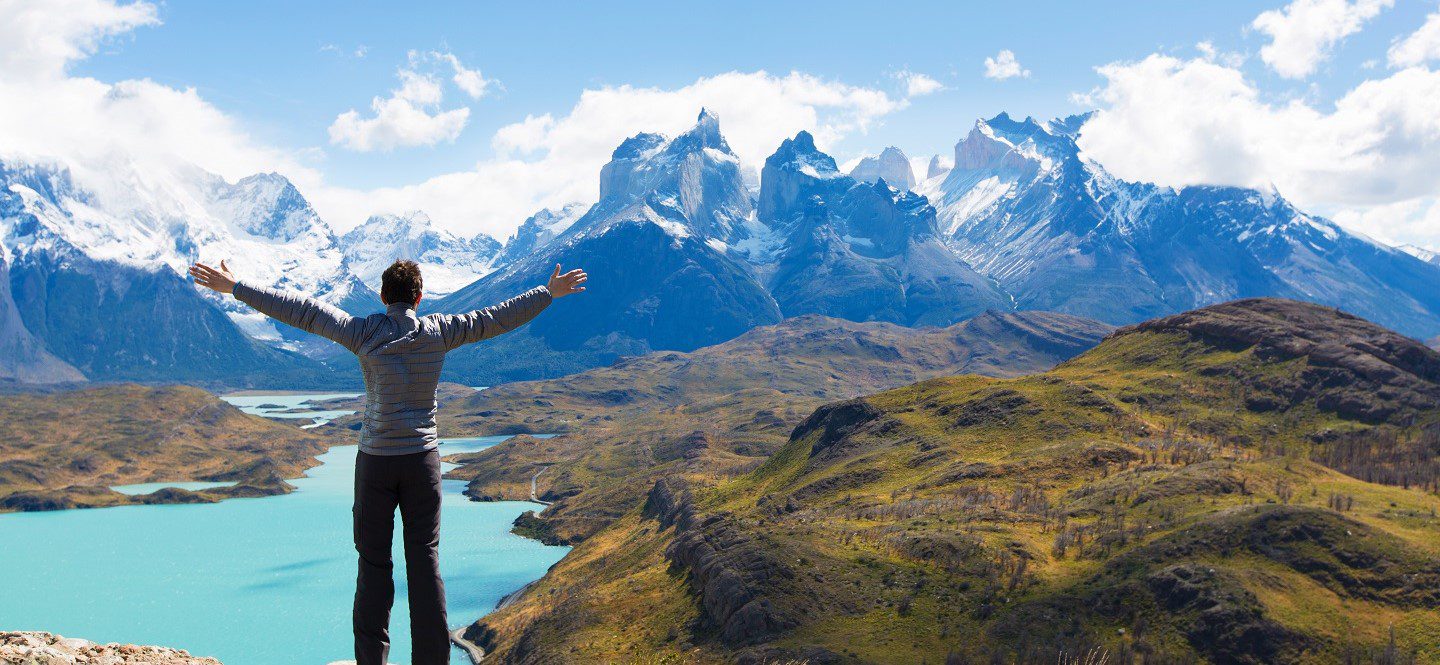 Patagonia, Chilean Fjords and Torres del Paine

From Sydney To Sydney - 21 Nights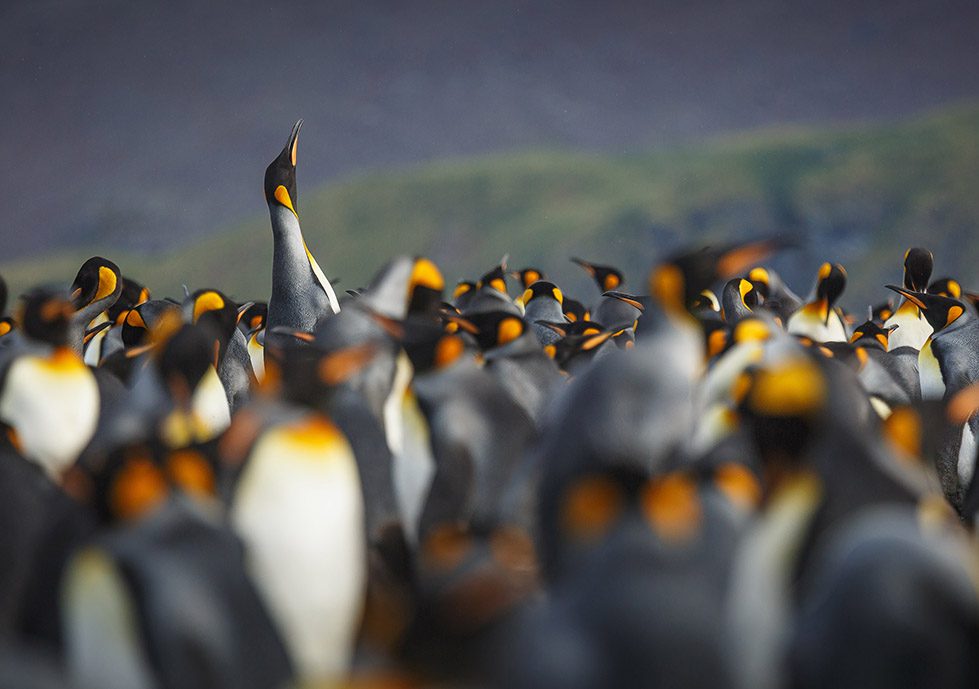 Departing from:

Sydney

Duration:

21 Nights

Travel Dates:

13/03/22 to 03/04/22
From
AU$27,369
Price per person
Package Details
Overview
This once in a lifetime adventure will take you on a journey to one of earth's most incredible and remote places,  Patagonia, including the Chilean Fjords and Torres del Paine.
Details
Your 15-Day Quark Expedition Cruise
Prior to your cruise, you will have the opportunity to explore beautiful Buenos Aires, a city well-known for its architecture and rich European heritage, before your charter flight to Ushuaia on day four of your trip.
Retrace Charles Darwin's epic voyage to the 'edge of the world' on your Essential Patagonia: Chilean Fjords and Torres del Paine expedition, a comprehensive journey into Chile's spectacular network of fjords and channels. Helicopter flightseeing and Zodiac cruises along this enchanting stretch of coastline provide awe-inspiring perspectives of some of the most remote and picturesque landscapes on Earth.
From Magellanic penguin colonies and other seabirds to South American sea lions and southern elephant seals, the fascinating array of wildlife is as abundant as the majestic blue-toned tidewater glaciers. Join Quark in this enchanting wonderland and experience all the natural splendors of southern Patagonia.
By coming aboard for this special journey, you will also be among the first guests to experience the pioneering new vessel, Ultramarine. This purpose-built vessel is designed to extend the boundaries of exploration and offer an unmatched experience, including a flightseeing tour you'll never forget and a range of adventure options more extensive than any other ship in its class.
Your 3-Night Post Stay at Tierra Patagonia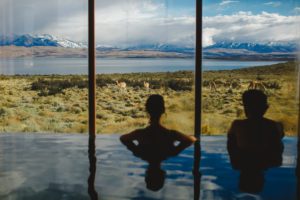 After disembarking Ultramarine in Punta Arenas, you will be transferred to the incredible Tierra Patagonia.
Emerging beside craggy mountains and the glistening Lake Sarmiento in Torres del Paine National Park, the architecturally stunning Tierra Patagonia hotel weaves itself into the landscape with subtle style, blending into the magnificence of the region.
Here in this untamed part of the world, the perfect spot for an adventure vacation, what you see at our Patagonia adventure spa hotel is emerald lakes, fantastic mountain ranges and abundant wildlife.Your stay at Tierra Hotels is all-inclusive. There is a range of excursion options suited for all ages and abilities and bookable on arrival.
On the final day of your stay, you will be transferred to Punta Arenas International Airport for your flight to Santiago and onwards.
Your LATAM Flights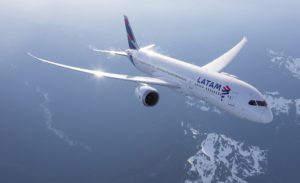 Your flights with LATAM will depart Sydney to Buenos Aires on March 13, 2022. Your return flight from Santiago arrives in Sydney on April 3, 2022. Your holiday also includes a domestic flight from Punta Arenas to Santiago on the April 1, 2022.
LATAM is Latin America's leading airline group, with a presence in five domestic markets in South America: Brazil, Chile, Colombia, Ecuador and Peru, as well as international operations within Latin America and flights to Europe, the United States and the Caribbean.
From March onwards LATAM will operate three flights a week from Sydney. From April this will increase to 6 flights a week. LATAM gives you the best experience in the sky, so all you have to do is relax and enjoy their onboard service.
Terms
Spencer Travel charges a booking fee of $150 per person in addition to the package price.
Cruise component:  Offer valid for new bookings in the Australia market made between October 20 2021 to 5 January 2022. Offer subject to availability. 35% off standard and 20% off Premium cabins for the March 15 2022 departure. November 5 Departure Promotion: Buy 1 berth Get 2nd 50% off in the same cabin Pay In Full: 10% Discount on select voyages if paid in full within 30 days of booking (Only voyages that have PIF offer from November in-market promo). Valid on New Bookings. Not valid on Single or Triple Cabins Not combinable with other offers. October 31, 2023 offers 20% off premium cabins plus a further 10% off if paid in full within 30 days of confirming.
Bookings made after the promotion period will not qualify for the savings. Must quote promo code  and passengers full names at the time of booking. Rates / Savings are per person. Applies to voyage fare only, cabins limited. Not applicable to adventure options, pre / post accommodation or insurance, flights or group bookings. Excludes triple and single occupancy. No cash value and brochure terms and conditions apply: https://www.quarkexpeditions.com/expedition-terms-and-conditions
Tierra Patagonia:  Rate includes: Regular transfers at the published times are included in ALL INCLUSIVE programs of 3 or more nights, to and from Punta Arenas. *Please review transfer times before buying your flight tickets.  Breakfast, lunch and dinner. Open Bar (includes mineral water, sodas, juices, house wine and liquors). Premium wines and vintage liquors available for an additional cost. Two half day excursions or one full day excursion daily in small groups with other guests. Use of pool, sauna and Jacuzzi (massages, treatments and therapies payable in the hotel).
Rates are in AUD, however payable in USD, exchange rate fluctuations may occur. Rates are subject to change without prior notice. These rates are for foreigners non-resident in Chile and with the right to tax free accommodation.
Reservation Conditions for Individual bookings (Less than 8 rooms): All reservations must be requested and will be confirmed in writing. A deposit of 30% of the value of the reservation is required to confirm the reservation. All reservations are tentative until the deposit has been received. Payment of the balance must be received at least 30 days prior to arrival. Any reservation which does not meet these requirements may be cancelled without notice. Cancellations: The following are the cancellation fees according to the time limits shown: Cancellations 60 days or more prior to arrival: NO charge. Cancellations 59 – 30 days prior: 10%. Cancellations 29 – 15 days prior: 50%. Cancellations 14 – 0 days prior: 100%.
Rate advertised for the purpose of this promotion is based on a per person sharing (double occupancy) basis for a 3 night stay in a Standard Room. Single occupancy rates are available.
Children under 4 years: Travel free sharing a room with at least one paying adult. Children 4 – 11 years: Rates apply for up to one child sharing with at least one paying adult. Teen 12 – 17 years: Rates apply for up to one teen sharing a room with at least one paying adult. Crib or up to one extra bed available per room for guests under 17 years of age. When 2 adults and 2 children/teens stay in separate rooms, each adult pays the Single rate and child/teen rates apply. We have Family Rooms, that can accommodate 4 to 6 people. The minimum rate is 2 adults each paying double rate plus a 10% surcharge and two kids or teens paying the kid/teen rate.
Flights:  Price of international and domestic flights is AUD$6,262.00 plus approximately AUD$167.37 in taxes, which are included in the overall price. Business class flights are from Australia to Santiago and return. Santiago to Buenos Aires and Punta Arenas to Santiago are economy class.
Business class fare rules: Changes permitted for reissue/revalidation. Changes are $85 plus any fare difference. Cancellations are permitted prior to departure. Cancellations are $150 per person. No refunds permitted after departure.
Economy class fare rules: Changes permitted for reissue/revalidation. Changes are USD280 plus any fare difference. Cancellations are permitted at 80% plus $150 per person. No refunds permitted after departure. No shows are non-refundable.
Travel Enquiry